---
---
Our God Reigns
An inventive duo-piano setting of the classic Praise and Worship song, Our God Reigns, provides the title for this popular collection. You and your piano-playing friends will find in this collection beloved tunes whose origins span the 18th, 19th, 20th and 21st centuries, and may be used in worship services and concerts throughout the year.
In addition to the title song, Our God Reigns, the following arrangements are included.
All Hail the Power of Jesus' Name
Holy, Holy, Holy (Nielson & Young's signature arrangement)
Hymns of God and Country Medley (God of Our Fathers/Eternal Father, Strong to Save – Official hymn of the U.S. Navy)
Joyful, Joyful, We Adore Thee
O the Deep, Deep Love of Jesus
Note: Two copies required for performance.
---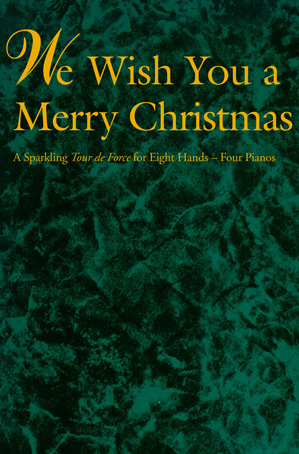 $30.00 the set – Buy Now From CCNow

---
We Wish You a Merry Christmas
A sparkling tour de force for EIGHT HANDS AT FOUR PIANOS, arranged by Nielson & Young with Mark Hayes and Jeff Bennett. Join the growing number of churches and educational institutions who mobilize their best keyboard players to present festive "monster" piano concerts! The complete set includes a full conductor's score with all parts plus separate parts for players I, II, III and IV.
---
---
I Could Sing of Your Love Forever
This piano solo collection contains arrangements of contemporary praise and worship songs by Stephen Nielson, Ovid Young, Mark Hayes, Kurt Kaiser, Lloyd Larson and Jan Sanborn.
I Could Sing of Your Love Forever
We Will Glorify
Great Is the Lord
All We Do
Emmanuel
Come Now, Behold Him
Come, Share the Lord
Savior of Fallen Hearts
Change My Heart, O God
I Give You My Heart
Trust in the Lord
Come, Seek the Lord
---
---
Bock's Best Friends
Commemorative collection of piano solos in tribute to Nielson & Young's late friend, Fred Bock.
A Mighty Fortress Is Our God
May Jesus Christ Be Praised (When Morning Gilds the Skies)
Plus 12 other solos by distinguished colleagues of Nielson & Young, including Ken Medema, Paul Johnson, William Phemister, Mark Hayes, Don Wyrtzen, Michele Murray, Dick Bolks, Jan Sanborn, Bob Krogstad, Ted Cornell, Dwight Elrich and Kurt Kaiser.
---