---
---
Nielson & Young Artistry
Six familiar hymn arrangements plus light classical favorites including Gershwin's Three Preludes.
---
---
 Romantic Interlude
Stephen Nielson and Ovid Young eloquently capture romantic classics in this enchanting recording, featuring their peerless duo-piano interpretations of the music of romance, reverie and the musical theater. For cherishing, and for a romantic adventure, this is truly one of a kind!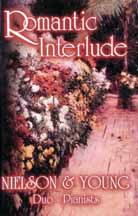 $11.00 Buy Now From CCNow
---
Romantic Interlude
---
---
Silver Anniversary Spectacular (2 CDs)
Classical and sacred favorites from Nielson & Young's milestone anniversary celebration.
---
---
A Classical Tapestry
Brahms, Bach, Rachmaninoff, Mozart, Falla, Schubert, Schumann, Shostakovich.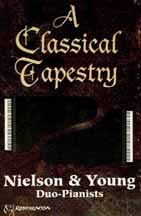 $11.00 Buy Now From CCNow
---
A Classical Tapestry
---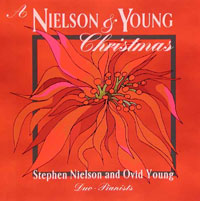 $18.00 Buy Now From CCNow
---
A Nielson & Young Christmas
The exhilarating, enduring music of Christmas presented by Nielson & Young is energetic, rollicking and poignant. It is everything you expect from this celebrated duo-piano team — and much more! And it is like no other Christmas recording you've ever heard, and certainly like nothing else these artists have ever done. Enjoy A Nielson and Young Christmas throughout the year.
---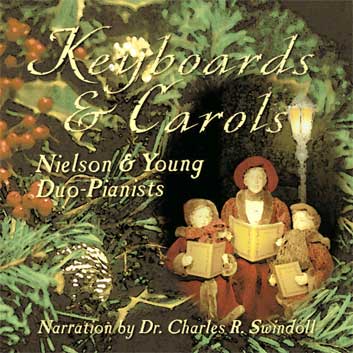 $18.00 Buy Now From CCNow
---
Keyboards and Carols
For the Christmas season, KEYBOARDS & CAROLS is a brilliant musical tapestry combining the popular duo's artistry with carols and choral masterpieces, including the Hallelujah Chorus by Handel. Joining Stephen Nielson and Ovid Young on this beautiful recording is their long-time friend, Dr. Charles Swindoll, renowned author and pastor, who reads poetry and narration richly unfolding the mystery, joy and eternal grandeur of the Nativity. Make your Christmas enjoyment and giving complete with KEYBOARDS & CAROLS from the creative minds and hands of Nielson & Young!
---
---
Festival of Hymns
FESTIVAL OF HYMNS with Nielson & Young, Duo-Pianists, as special guests of the Chancel Choir of Brentwood United Methodist Church, Nashville, Tennessee, with members of the Nashville Symphony Orchestra , recorded at the acclaimed Schermerhorn Symphony Center. Conducted by Dr. David Keith, Nielson & Young perform nine beloved hymn tunes, including the premiere American recording of a medley of favorite hymns first performed by Nielson & Young on BBC Television in England's famed Coventry Cathedral.
---
---
Song of Thanksgiving
Nielson & Young's musical for all seasons with duo-pianos, choir and orchestra.
---